AIRCRAFT SUPERCHARGING
PLEASE READ FOOT NOTE AT BOTTOM OF PAGE**
Supercharger systems for Lycoming engines 235 thru 540cu. Experimental Aircraft Category
Supercharger system starting at $12,500.00
Fuel delivery design & fabrication is not included
Supercharger systems and installation is only available through G3i
All systems are custom to application**
MSL power @ higher altitudes
Don't settle for less manifold pressure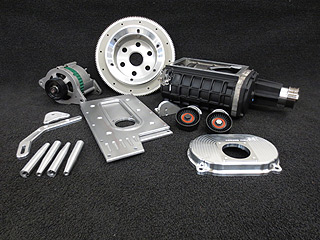 The G3i Forced Induction Aircraft Supercharger, are designed to mount to a stock Lycoming vertical draft sump. The Supercharger system is driven from the flywheel, through the alternator by a 6 rib multi-belt, also known as a serpentine belt. This provides multiple choices of drive ratios for different end user manifold pressure requirements. All superchargers utilize a rear air intake inlet. Fuel delivery options are fuel injection pre or post compressor and carbureted pre-compressor. To maintain original fuel nozzle positions, post supercharger will require upper deck reference supply signal system, which we can supply. Installation component design and fabrication is done in-house at G3i. G3i supercharger components can be customized to fit different type of aircraft applications from high HP demands to high altitude cruise performance.
About the Supercharger:
The compressor is mechanical, belt driven systems that utilizes EATON's latest 6th Generation (TVS) supercharger rotor technology. The Twin Vortices Series (TVS) Superchargers feature a pair of four-lobe, high-helix rotors with 160-degrees of overall twist that are housed in a high-flow housing. This highly efficient package requires less power to drive, and delivers cooler discharge temperatures not requiring the use of intercoolers. To maximize efficiency during cruise power settings is obtained by the supercharger's integrated bypass valve that is vacuum and also vernier controlled. This vacuum operated system allows air to bypass the supercharger and the rotors to "free-spin" under lower MP requirements. During this situation the parasitic loss of the supercharger system is essentially negated taking less than one-third of a horsepower to turn the rotors. This bypass valve also being vernier controlled allows to set up for target MP at different altitudes.
Sea level Manifold Pressure above 20,000ft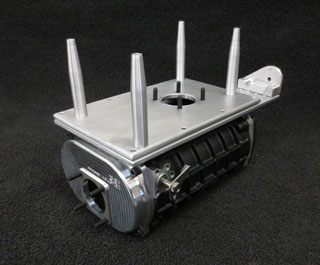 Normalized engine torq. and HP @ altitude.
Supercharger has a self-contained oil system.
Not affected by unusual flight attitudes.
235cu – 540cu Lycoming engines.
Supercharger sized to engine displacement cu.
Different supercharger drive ratios.
High power aerobatic applications.
Efficient cruise performance.
Low parasitic loss supercharger.
Automatic / Adjustable boost by-pass valve.
Automatic drive belt tension system.
Inter-cooler not required.
No modifications to most intake sumps
Straightforward installation
System weight – 40lbs
This application is going into a Berkut pusher.
The supercharger belt drive system utilizes two 6-rib belts. One drives the alternator from the flywheel and the other drives the supercharger from the back of the alternator through shaft. This allows during set-up, multiple choices of drive ratios for different end user manifold pressure requirements.
Custom, Lysholm supercharger set-up on a Lycoming IO-540. Self-contained oil system with reverse anti-back lash helical cut idler gears. Single multi-rib belt drive. This engine on the dyno @ 2650rpm, was putting out over 330hp/ 657ft-lbs torq. (Uncorrected horse power) at 8200ft density altitude.
(Note)**
1) Supercharger mounting plates are individually machine fitted for each engine application. These are not direct bolt on kits. Consequently, the starting price is for the supercharger and custom machine work for mounting compressor to a vertical sump intake systems, which also includes, drive configuration to compressor. All configurations are different for compressor mounting, modifications of fuel delivery, and ignition are not included.
2) G3i requires the engine for proper installation to engine intake sump & crankcase mounting, or mechanical drawings for bolt/stud mounting coordinates.
3) Intake sump must be vertcal intake only.
4) Engine set-up's can be dynometer run/tuned services are available.